By CCC&Y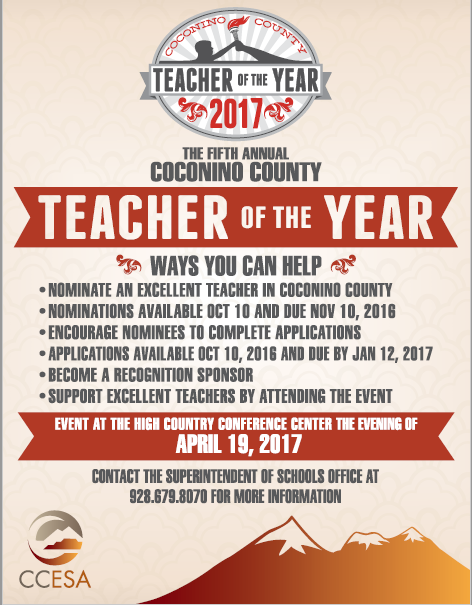 Nominations for the 2017 Coconino County Teacher of the Year Award have been extended until Monday, Nov. 21, the Flagstaff Unified School District reported on its Facebook page on Nov. 8
The Coconino County Superintendent's Office annually hosts the Teacher of the Year (TOY) event. TOY is the only county-wide teacher recognition program that spotlights the contributions of Coconino County's certified public school teachers.
The Coconino County Education Service Agency says the public can help by:
Nominating an excellent teacher in Coconino County
Encouraging nominees to complete applications
Become a recognition sponsor
Support excellent teachers by attending the event scheduled for April 19, 2017 at the High Country Conference Center.
Contact the Superintendent of Schools Office at 928-679-8070 for more information.
Click here for the 2017 Coconino Coujnty Teacher of the Year Nomination Form.
Click here for more information.
Category: General