Northland Family Help Center has an opening for a Trauma Therapist. This will be a full time position, benefits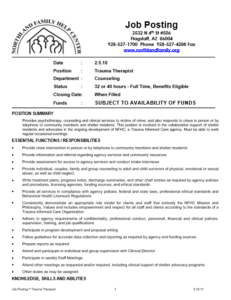 eligible.
Position Summary: Provides psychotherapy, counseling and clinical services to victims of crime; and also responds to crises in person or by telephone to community members and shelter residents. This position is involved in the collaborative support of shelter residents and advocates in the ongoing development of NFHC, a Trauma Informed Care Agency. Must be able to work regular occasional evenings.
Minimum Qualifications
Master's Degree in Counseling, Psychology, Sociology, or Social Work
Current Arizona license as a Licensed Associate Counselor, Marriage and Family Therapist, or Licensed as a Master Social Worker, or acceptable demonstrated eligibility for license
Professional experience in supporting the target client population; in particular victims of crime, domestic violence, sexual assault, child neglect and abuse
To learn more about this job opening, follow the link here or click on the picture to the right.
To apply: Contact NFHC Clinical Director, Andrea Meronuck, MA, LPC, SEP via email at ameronuck@northlandfamily.org with resume/CV and cover letter. Direct line 928-233-4318 for any questions.
Category: General