Children's Action Alliance Newsletter:
The country's "tough on crime" policies, with harsher prison sentences for offenders, have had a big impact on American families, including more than five million children whose parents are incarcerated. As a result of their parents' absence, these kids are more likely to experience poverty, homelessness, hunger and emotional distress. These effects can be lasting, even lifelong.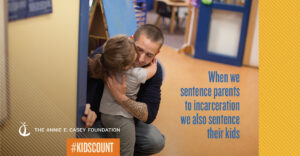 A new report from the Annie E. Casey Foundation, A Shared Sentence: The Devastating Toll of Parental Incarceration on Kids, Families and Communities, proposes solutions and calls for policies and practices that prioritize the needs of children whose parents are jailed, whether for short periods or long sentences.  In Arizona, 138,000 children are affected by mass incarceration. For these kids, having a parent behind bars can be as traumatic as abuse, domestic violence and divorce. Reform proposals should consider better solutions to the multiple problems facing the children of incarcerated parents.
In this report you will find recommendations for how judges, community organizations, cities and state governments can:
Ensure children are supported while parents are incarcerated and after they return;
Connect parents who have returned to the community with pathways to employment; and
Strengthen communities, particularly those disproportionately affected by incarceration and reentry, to promote family stability and opportunity
Click here to read the full text of the study.
Category: General