Arizona once again ranks at the bottom of the country for access to quality and state investments per child on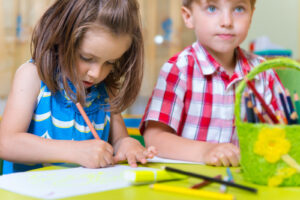 preschool.  According to the 2016 State of Preschool Yearbook released annually by the National Institute for Early Education Research (NIEER), despite bipartisan national support for quality early preschool, Arizona continues to lose ground.  The report states that "decades of research shows that early childhood education can prepare children for greater success in elementary school and beyond- but only if quality is high".  In Arizona, the legislature eliminated general fund dollars for preschool in 2010.  Those dollars have not been replaced despite improvements in the state's economy.
Currently, the only state funding going to quality preschool programs is delivered through the First Things First, Quality First scholarship program.  Funding for this program fell 17 percent from the 2014-2015 reports.  Only 4 percent of Arizona's 4-year-olds are enrolled in state funded preschool, far below the national average of 32 percent.  In practical terms, 1800 children lost access to quality early preschool programs in the past year.  What's more, the state investment per child is nearly $1500 below the national average.
We must continue to advocate for state level policies and investments that help actually move us forward from discussion to action.The full report can be found here.