Healthy kids, healthy futures!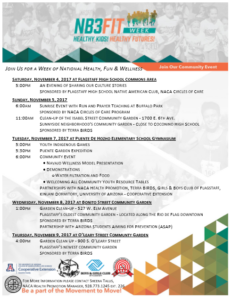 Join this community event for a week of national health, fun, and wellness!
Saturday, November 4 at Flagstaff High School Commons Area
An Evening of Sharing our Culture Stories
Sunday, November 5
Sunrise Event with Run and Prayer Teaching at Buffalo Park
Clean-up of the Isabel Street Community Garden
Tuesday, November 7 at Puente de Hozho Elementary School Gymnasium
Youth Indigenous Games
Puente Garden Expedition
Community Event
Wednesday, November 8 at Bonito Street Community Garden
Garden Clean-up
Thursday, November 9 at O'Leary Street Community Garden
Garden Clean-up
Follow the link here or click on the flyer to learn more!