Nov. 17-18, 2017 is the Navajo Bridge Star Party over the Colorado River in Marble Canyon, AZ. This year,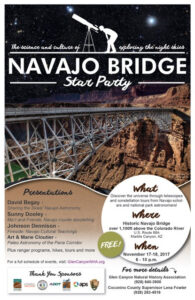 presentations about the Navajo constellation and storytelling are included. The featured Navajo speakers are Dr. David Begay, Sunny Dooley and Johnson Dennison. Lots of Saturday day activities including a hike of the Paria Corridor. For more information, call (928) 283-4518.
What: Discover the universe through telescopes and constellation tours from Navajo scholars and national park astronomers!
Where: Historic Navajo Bridge (over 1,100 ft above the Colorado river!)
U.S. Route 89A
Marble Canyon, AZ
When: November 17-18, 2017
6-10pm
Category: Events