Presented by NAU Colorado Plateau Museum of Arthropod Biodiversity at Willow Bend Environmental Education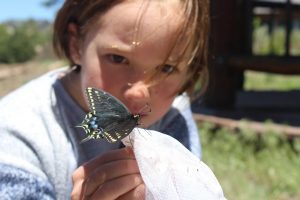 Center
Campers learn about insect natural history and biodiversity through a series of projects and activities. Campers interact with live bugs and spiders from the insect zoo, collect insects and create their own insect collection, and make insect cuisine!
Each week-long summer camp is designed for children ages 6 to 10. The camp will take place Monday, July 17, through Friday, July 21. Camp runs from 9 a.m. to 4 p.m. All the supplies needed for camp activities will be provided. Campers provide their own snacks, lunch, summer clothing and sunscreen.
ADMISSION INFO
The fee for the 2017 Summer Bug Camp is $190 per child. Scholarships are available.