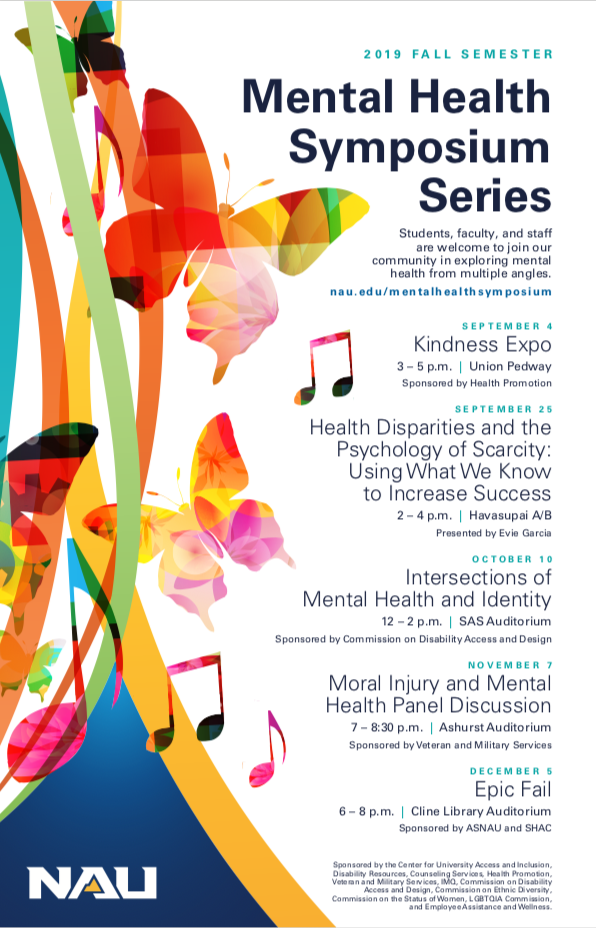 FLAGSTAFF — The NAU Mental Health Symposium Series continues with:
"Intersections of Mental Health and Identity," noon to 2 p.m. Thursday, Oct. 10 at SAS Auditorium, Northern Arizona University. Sponsored by the Commission on Disability Access and Design.
"Moral Injury and Mental Health Panel Discussion," 7 to 8:30 p.m. Thursday, Nov. 7 at Ashurst Auditorium. Sponsored by Veterans and Military Services.
"Epic Fail," 6 to 8 p.m. Thursday, Dec. 5, Cline Library Auditorium. Sponsored by ASNAU and SHAC.
The Mental Health Symposium Series, which is a collaboration between Campus Health Services, the Center for Access and Inclusion, the Diversity Commissions, the Office of Inclusion and other groups throughout campus, includes several events relating to mental health awareness throughout the fall semester.
The events are designed to benefit students, faculty and staff. The goal is to provide multiple perspectives on mental health by looking at the intersection of culture and mental health and educating attendees on resources available to them to support wellbeing.
"The last few years NAU has seen an increase in demand for mental health services on campus. The campus community has been looking for additional resources to support its members," said Jamie Axelrod, director of Disability Resources. "The truth is that engaging in the academic programs that NAU offers can be stressful."
With great stress comes a greater potential for mental health to decline, and the Mental Health Symposium Series is there to offer students, faculty and staff a safe space to learn about where they can go to get the help they need.
"I think the MHS is a great opportunity for the campus community to have thoughtful and informed conversations about the importance of mental health and learn about how different cultures and societies view and engage with mental health issues," Axelrod said.
Category: Education, Educational Opportunities, Events, Health, Programs, Resources