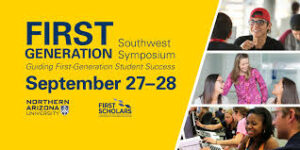 By NAU Communications
People interested in mentoring and supporting first-generation college students can learn the best ways to help at the First Generation Southwest Symposium Sept. 27-28 at the DuBois Center at Northern Arizona University. Attendees will hear from first-generation students, discuss their own experiences and insights and help find creative solutions to challenges these students face.
Presentations will include information on the transition to college, working on non-cognitive skills, engaging with students beyond the classroom, finding mentors and other skills that will help first generation students succeed.
…Read the full article HERE
Category: Education