Are you passionate about helping others and serving your community? NAU AmeriCorps is recruiting for several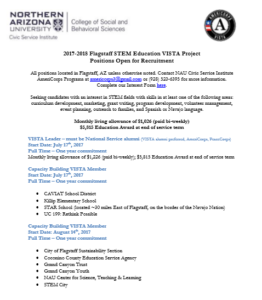 open positions in Flagstaff! Serving with AmeriCorps and/or VISTA is a great way to gain valuable work experience, give back to the community, and earn money to use for college/grad school, or to pay student loans. It can be a great next step after graduation.
Please contact NAU AmeriCorps at americorps3@gmail.com OR (928) 523.6395 for more information.
Summer Positions
Start Date: May 22nd or June 5th | End Date: Aug. 18th or Aug. 31st
~35 hours per week | Benefits include a living stipend and Education Award
Arizona Ready for College and Career (ARCC) AmeriCorps is recruiting for 2 positions to serve with Coconino County Juvenile Court. ARCC AmeriCorps members work directly with high school aged youth to improve on-time high school graduation rates and prepare them to be college and career ready. These AmeriCorps positions will work with the youth and their families who are under the jurisdiction of the Juvenile Court or who are at risk of involement with the juvenile justice system. If you are interested in working with this student population, please apply here.
Full Time, One Year Positions
Start Date: July 17th or Aug. 14th, serve for one full year
Benefits include a living stipend and Education Award – more on VISTA benefits here.
Flagstaff STEM Education VISTA Project seeks to increase the academic performance and interest in STEM (science, technology, engineering, and math) of youth who are currently underrepresented in STEM fields. We are recruiting for several AmeriCorps VISTA positions to serve with Flagstaff non-profits, schools, and other organizations. VISTA members will create curriculum, recruit and train volunteers, create targeted outreach to low-income families, secure resources, and develop new partnerships. VISTA members serve full time (40 hours per week) for one year. Please apply here