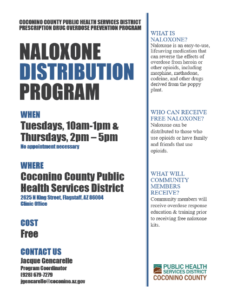 The Coconino County Public Health Services District will begin a Naloxone Distribution Program on November 8, 2018.  Naloxone is an opioid overdose reversal medication.
During scheduled office hours, members of the community can obtain naloxone kits free of charge.
What is Naloxone?
Naloxone is an easy-to-use, lifesaving medication that can reverse the effects of overdose from heroin or other opioids, including morphine, methadone, codeine, and other drugs derived from the poppy plant.
Who can receive free Naloxone?
Naloxone can be distributed to those who use opioids or have family and friends that use opioids.
What will community members receive?
Community members will receive overdose response education and training prior to receiving free naloxone kits.
When: Tuesday 10am – 1pm & Thursdays 2pm – 5pm
No appointment necessary
Where: Coconino County Public Health Services District
2625 N King St
Flagstaff, AZ 86004
Clinic Office