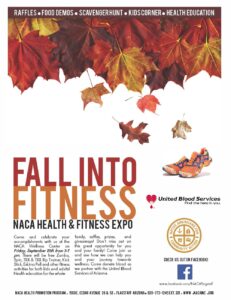 Native Americans for Community Action's Family Health & Wellness Center will present the third annual "Fall Into Fitness" six-week challenge from Aug. 17 through Sept. 25.
Participants pledge to engage in a choice of 20, 40 or 60 minutes of physical fitness activity every day for 40 days. Activities include but not limited to: biking, brisk walking, jogging, group fitness classes, swimming, yoga, etc. The purpose of the challenge is to encourage participant's to improve their cardiovascular, muscle strength, endurance and/or flexibility.
This fitness challenge is completely free and is nationwide.
Click here for late bird registration, which continues through 9 a.m. Monday, Aug. 17.
The finale expo will be from 3 to 7 p.m. Friday, Sept. 25 at the NACA Wellness Center, 1500 E. Cedar Ave., Suite 26, Flagstaff.
The expo is a celebration of the participant's commitment to do physical activities for the duration of our fitness challenge. There will be family friendly activities, kids' comer, fitness classes, food demos, raffles, a blood drive in partnership with the United Blood Services of Arizona and will also feature a recorded interview of the health advocate, Waylon Pahona, from Healthy Active Natives sharing his stories and inspirations.
Call (928) 773-1245, ext. 221 or visit http://www.nacainc.org for more information.
Category: Health