Presented by Lowell Observatory at Lowell Observatory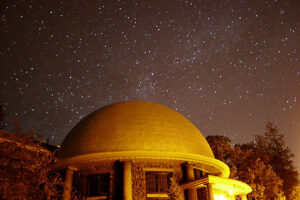 Featured Astronomer: Dr. Gerard van Belle
There aren't many places in the world where the public can meet a professional astronomer and ask him or her questions. Come up to Mars Hill and meet a Lowell astronomer and take a peek at real-time images of planets, stars, galaxies and other celestial objects to be displayed on a large television screen outdoors with the new MallinCam. This is your opportunity to see interesting objects in the night sky, learn about an astronomer's research, and ask questions you might have about any topic in astronomy.
When: Saturday Dec 23, 2017
07:30 pm – 10:00 pm
Where: Lowell Observatory
1400 West Mars Hill Road
Flagstaff, AZ 86001
Follow the link here to learn more!
Category: Educational Opportunities, Events