Flagstaff's Downtown library has released their calendar of events for March 2018! Follow the link here or click on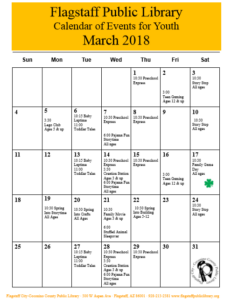 the image to the right to see the full calendar.
Find out when the Library hosts fun events such as: Preschool Express, Story Stop, Teen gaming, and more!
Also, don't miss a week of fun events for Spring Break!
3/17/18

Family Game Day (all ages) – Join the library for stories, crafts, and games, plus a visit from a special guest!
10:30 – 12:00

3/19/18

Spring into Storytime (all ages)
10:30am

3/20/18

Spring into Crafts (ages 3 & up)
10:30am

3/21

Family Movie (all ages); 10:30am
Stuffed Animal Sleepover Storytime – Bring your favorite stuffed animal with their blanket and pillow. Pick up next morning and see what fun the animals had all night in the library! 6pm

3/22

Spring into Building (ages 5 – 12) – Join the library for some awesome LEGO challenges
10:30am