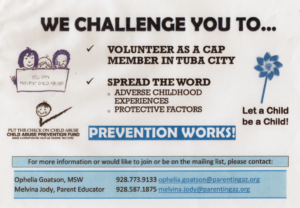 BY CPLC Parenting Arizona
TUBA CITY — The next Tuba City Child Abuse Prevention (CAP) meeting has been rescheduled to 10 a.m. Wednesday, March 25 at the Tuba City Public Library, 78 Main St., Tuba City.
As always, please feel free to spread the word and invite your fellow colleagues and community members, as we are going to be discussing important child abuse prevention strategies, as well as events we have planned for April's National Child Abuse Prevention Month campaign! And please let us know if you have any questions or concerns.
Thank you for your time, everyone! Have a wonderful day!
Send an email to to ophelia.goatson@parentingaz.org or Cymbre.Lauing@parentingaz.org, or call 928-773-9133 to get information on date, time for the next meeting.
Category: Advocacy, Child Welfare, Education, Events