The ACE Study – The link between Childhood Trauma and Adult Disease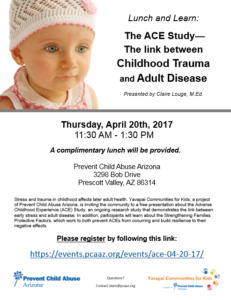 Presented by Claire Louge, M.Ed.
Thursday, April 20th, 2017
11:30am – 1:30 pm
A complimentary lunch will be provided.
Prevent Child Abuse Arizona
3298 Bob Drive
Prescott Valley, AZ 86314
Stress and trauma in childhood affects later adult health. Yavapai Communities for Kids, a project of Prevent Child Abuse Arizona, is inviting the community to a free presentation about the Adverse Childhood Experience (ACE) Study, an ongoing research study that demonstrates the link between early stress and adult disease. In addition, participants will learn about the Strengthening Families Protective Factors, which work to both prevent ACEs from occurring and build resilience to their negative effects.
Please register by following the link here or on the link on the flyer.
Category: Child Welfare, Educational Opportunities, Health