at The Orpheum Theater, Flagstaff AZ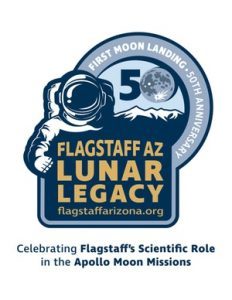 The Flagstaff AZ Lunar Legacy celebration will launch on July 20 at the Orpheum Theatre. This free event will feature Moon-themed presentations, exhibits, family activities, and music.
Doors open at 5 p.m. and festivities begin at 5:30 p.m. Mayor Coral Evans kicks off the evening by reading a proclamation recognizing Flagstaff AZ Lunar Legacy, which runs from July 20, 2018 through the end of 2019. Space historians will then give a brief presentation about Flagstaff's role in preparing for the manned Moon missions of the late 1960s/early 1970s and how these missions impacted us as humans. Part of this presentation will include vintage video showing the dramatic 1967 explosion of a cinder field near Sunset Crater. This well-planned event resulted in a simulated lunar crater field critical for testing Moon-bound instruments and training astronauts.
A variety of local science and education organizations will be on hand to lead demonstrations and share information about the Moon, particularly the astronaut training, instrument testing, and mapping that took place in northern Arizona. Telescope viewing, robotic rover activities, and science experiments highlight this fun, hands-on experience.
Later, starting at 8 p.m., two bands will play space-themed music. The first set features Planet Sandwich, a Flagstaff group playing original American rock music featuring a party mix of Beattles-esque pop, 90s rock, ska and country. For this kick-off event, Planet Sandwich will debut its new album "Yo Pluto!"
After this 45-minute set, the Flagstaff-based string band, Lucky Lenny, will take the stage. Lucky Lenny is a bluegrass outfit but spans folk, Americana, blues, jazz, and country genres. Capturing the spirit of Flagstaff's Lunar Legacy, they will play "Dark Side of the Moon: Bluegrass Style."
Guests can purchase food and drinks, including "Apollo IPA" by the Grand Canyon Brewing Company.
ADMISSION INFO
Free
Doors: 5:00 pm
Show: 5:30 pm
When: Friday Jul 20, 2018
05:30 pm
Where: The Orpheum Theater
15 West Aspen Street
Flagstaff, AZ 86001
Category: Educational Opportunities, Events