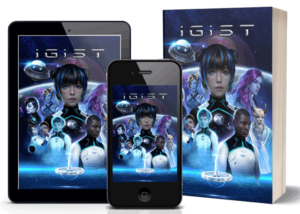 By Lowell Observatory
Come meet IGIST author L.S. Larson, as well as chief illustrator Yujin Jung, and a special guest at the Lowell Observatory for students in middle school and high school from 4 to 5 p.m. Saturday, Jan. 19 at 1400 W. Mars Hill Road, Flagstaff.
IGIST is the newest YA series sweeping the country.
At this free event the IGIST crew will deliver an illuminating and entertaining presentation that transports you to a bright, extraordinary future among the stars. Don't get left behind.
Book overview: In the future, orbiting the moon is a space station called IGIST (Intergalactic Institute of Science and Technology) that embodies a simple ethos. No matter what problems we face an idea can prevail. Emi dreams of space & attending the elite IGIST to get away from a deadly plague on Earth. Against all odds, she makes it into IGIST and works as a team with Hans and Ankor as they race against time to find an antidote for the plague.
Click here for event registration and more information.
Category: Events