You are cordially invited to attend the annual Light-A-Life Memorial Ceremony honoring the memory of your loved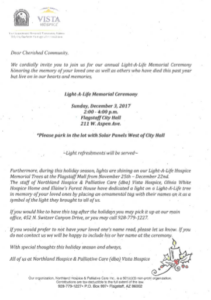 one as well as others who have died this past year but live on in our hearts and memories.
When: Sunday, December 3, 2017
2-4 pm
Where: Flagstaff City Hall
211 W Aspen Ave
*Please park in the lot with Solar Panels West of City Hall
~Light refreshments will be served~
Furthermore, during this holiday season, lights are shining in the Light-A-Life Hospice Memorial Trees at the Flagstaff Mall from November 25th – December 22nd. The staff of Northland Hospice & Palliative Care (dba) Vista Hospice, Olivia White Hospice Home and Elaine's Forest House have dedicated a light on a Light-A-Life tree in memory of your loved ones by placing an ornamental tag with their names on it as a symbol of the light they brought.
Follow the link here or click on the picture to find out more!