By the Flagstaff Unified School District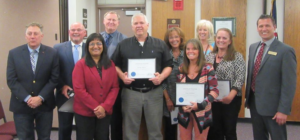 Five teachers were honored as "Legendary Teachers" at the FUSD Governing Board meeting on Oct. 24.
Congratulations to; Randy Hopson, Suzy Jacobsen, Mary Lara, George Moate and Jodie Nicolson!
Though these teachers were honored formally they represent the hundreds of amazing, wonderful and legendary teachers in FUSD.
…Read the full article HERE
Category: General