Beyond Leadership to Transformation Series. Presented by Dr. Robert Ruotolo, D.S.W.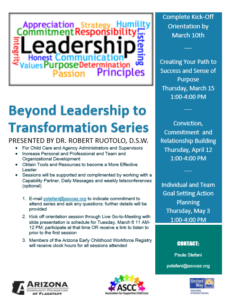 For child care and agency administrators and supervisors
Increase personal and professional and team and organizational development
Obtain tools and resources to become a more effective leader
Sessions will be supported and complimented by working with a Capability Partner, Daily Messages and weekly teleconferences (optional)
1. Email pstefani@asccaz.org to indicate commitment to attend series and ask any questions; further details will be provided
2. Kick off orientation session through Live Go-to-Meeting with slide presentation is scheduled for Tuesday, March 6 11am – 12pm; participate at that time OR receive a link to listen to prior to the first session
3. Members of the Arizona Early Childhood Workforce Registry will receive clock hours for all sessions attended.
Complete Kick-Off Orientation by March 10th.
Creating Your Path to Success and Sense of Purpose: Thursday March 15, 1 – 4pm
Conviction, Commitment and Relationship Building: Thursday April 12, 1 – 4pm
Individual and Team Goal Setting Action Planning: Thursday May 3, 1 – 4pm
Category: Educational Opportunities, Events, Programs, Resources