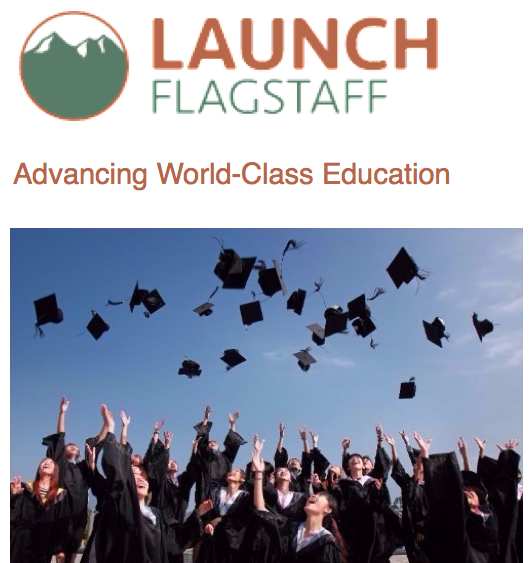 Advocating for the world-class education practices that are proven to help kids is the foundation for the work of LAUNCH Flagstaff and its partners – something to which everyone can usually agree. (Read our statement on Education Funding here)  However, when politics enters the education conversation, this accord often dissolves rapidly.
Currently, education is central to much of the political debate in Arizona.  Whether it is #RedforEd or voucher expansion, there is deepening debate about what education means for our children and our state.
The latest edu-political issue to surface is the revision of the Arizona science education standards (read-on for more).  Because the months ahead, though the November election are likely to be filled with more issues like this, I urge you to stay informed and stay engaged.  Our children are counting on us.
3 STEPS FORWARD
CHANGES IN SCIENCE STANDARDS RAISES CONCERNS
In September 2016 the Arizona Department of Education began a review of the Arizona Science Standards for K-12 education.  The education standards along with proposed revisions were made public in late March 2018 and have generated a strong reaction by many educational subject-matter experts.
Three changes in particular are primary sources of the greatest concern:
The "scientific method" is replaced with "science and engineering practices"
The theory of evolution gets a new definition and is framed in a context of "belief"
"The Big Bang" is removed entirely from the Earth and Space Sciences section
The Northern Arizona Leadership Alliance (NALA), a member of the LAUNCH Flagstaff partnership, has written a letter to Arizona Governor Doug Ducey explaining their objection to many of the proposed science standards changes.  Click the button to read the text of NALA's letter… READ MORE
LAUNCH RECEIVES FUNDING TO STOP THE SUMMER MELT
LAUNCH Flagstaff has received $1000 to use in collaboration with the Northern Arizona College Resource Center and the Flagstaff Unified School District to stop summer melt during July and August.
Summer melt is the phenomenon where students enroll in a post-secondary education program after graduating high school, but fail to attend that school in the fall.  Estimates are up to 40% of high school graduates experience summer melt with the highest rates for first generation students, kids who's parents did not receive post-secondary education.
Funding to stop the summer melt in Flagstaff is provided by the College Knowing & Goinginitiative in collaboration with the Arizona College Access Network.  The summer melt effort is part of the work of the Post-Secondary Enrollment CAN to increase the number of students who enter on to a post-secondary career path after high school.  To get involved in this work, reply to Paul via this email.
48MONTHS.ORG FEATURES LAUNCH FLAGSTAFF
by Jackie Lenners and Cristy Zeller from 48months.org
If you live in Arizona, you are well-aware of how education has dominated our headlines this month. Following the lead of other states, the #RedForEd movement resulted in Arizona teachers walking out for 6 days.  The group sought not only increased pay for teachers and support staff, but also generalized increase in education funding. The movement is in response to repeated cuts to education in Arizona in 2008 that have resulted in the State ranking at the very bottom of the entire United States. The results of the walkout are mixed, but the consensus among the movement is that change has begun and will continue into the November elections.
Education reform is a gigantic and complicated issue that warrants a 48months manifesto. Please reference "best of intentions above."
Since Jacki and I are parents, and one of us is a school administrator and Month 17 is approaching the end, the manifesto will have to wait.  However… we are happy to introduce you to an organization in Flagstaff that is deeply committed to improving the education landscape in our community:  LAUNCH Flagstaff.
We had the opportunity to exchange emails with Paul Kulpinski, the Partnership Director of the organization.  Please take the opportunity to read the below Q and A to learn more: READ MORE
LOOKING FORWARD
FLAGSTAFF COMMUNITY GRAD NIGHT 
Flagstaff Community Grad Night is a celebration for ALL high school students who are graduating in the Flagstaff area. This includes district high schools, charter high schools, home school, and alternative high schools. It is a free and safe place for the students to come and celebrate their accomplishment.


Friday, June 1st 9pm-2am
NAU Health and Learning Center
824 S. San Francisco St.
Adult volunteers are still needed.  Click the button to learn more and volunteer. READ MORE
SUMMER CAFE
LAUNCH Flagstaff in collaboration with the United Way of Northern Arizona will be supporting the Summer Café Flagstaff every Tuesday from June 5 – July 24, 2018 at the Bow and Arrow Park to provide meals and activities to all kids ages 1-18.
We want your help to volunteer.  Please join us.  For more information call 928.773.9813.
UPCOMING MEETINGS AND EVENTS
June 1, 2018 – 9:00 pm: Flagstaff Community Grad Night
June 5, 2018 – 11:30 am: Summer Café
June 5, 2018 – 4:00 pm Kindergarten Readiness CAN
June 6, 2018 – 11:00 am Coconino County Diversity Day
June 7, 2018 – 2:00 pm:  Leadership Steering Committee
June 8, 2018 – 11:30 am: Lunch & Learn: Employable Graduates
June 12, 2018 – 11:30 am: Summer Café
June 19, 2018 – 4:30 pm : LAUNCH 101
Click here to see the complete event calendar
I look forward to seeing you acting on your commitment to advance world-class education for every child in Flagstaff.
Warmly,


Paul Kulpinski
Partnership Director

Get The Data
Read our 2018 Baseline Education Report
We appreciate your support.
Make a collective impact by forwarding this message to a friend!
Category: General