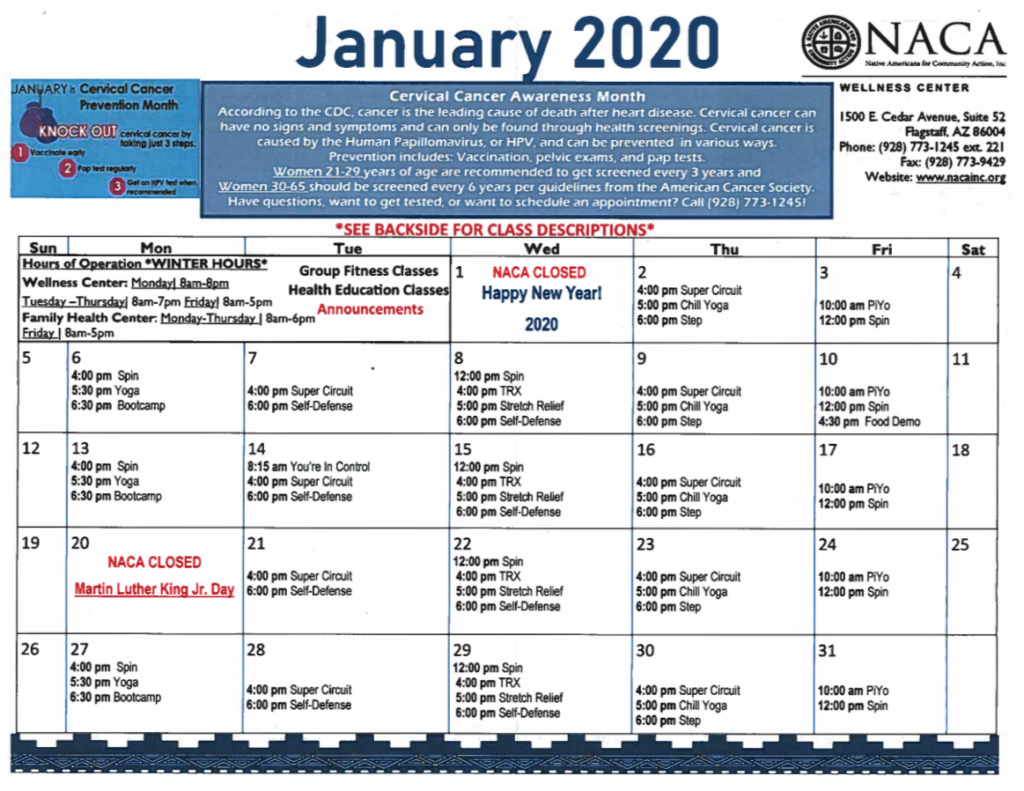 By Native Americans for Community Action
Dear precious people,
Lasting Indigenous Family Enrichment (LIFE) Program has certainly come along way. As I write my CDC Annual Performance Evaluation, I am teared up. Mainly, because of you all the great, wonderful and amazing things we have done together these past 2 years. It is astounding! I just want you all to know that you are appreciated and honored for your connection to the LIFE program, no matter how small or big that connection is… If you've heard about the program and shared the information – AWESOME!.
These last few months of the Grant Year 2, Jan-April, 2020, please come and participate in the following offerings:
LIFE healthy, economical food classes & demonstrations, that are easy for your families to prepare. Starting this Tuesday, Jan 14th. Classes & Demos will be every Tuesday evening at Puente de Hozho, 6-7:30 pm.
Please be inspired to pick up your workouts & attendance at the Wellness Center. See attached calendar. If you are interested in February LIFE Program Membership, please let me know ASAP! There is a limited number.
"Healthy Living in Today's World through Navajo Traditions", a community cultural evening event. Presenter is Ursala Knoki-Wilson, from Chinle. Please plan to attend on February 11, Tuesday, 6:00 – 7:30 pm at Puente de Hozho. A healthy evening dinner will be provided. A flier will be out soon.
Starting March 8 – April 15th, Injury Prevention and Performance Enhancement Program (I.P.P.E.P.) for Powwow Dancers, ages 8-18 year old. Youth registration fee is usually $250, but the doctors of Flagstaff Sports Institute are paying the fee for a limited number of participants. The class meets 2 times a week; Sunday 1-3 pm & Tuesday 6-8 pm, for 6 weeks. I can't believe what a great opportunity this is for our program participants. If you are interested please let me know. There will be an orientation meeting Feb 22, 2019, Saturday @ NACA Main Office @ 10 AM-11:AM. A flier will be out soon.
Early April, either the 4th or 11th, Saturday, there will be a community Spring Walk/Run at Buffalo Park. This is a collaboration with WINGS of America, an Indigenous Cultural program. We are really excited about it. WINGS takes the best high school runners to the Boston Marathon to represent Indian Country. A flier will be out soon.
I know this was a lot to read, but LIFE Program has it going on. We just hope you and yours will plan to partake in these awesome offerings. PLEASE share this information with anyone who is interested in the Flagstaff LIFE program.
If you have any questions, please feel free to contact me @ 928-526-2968 ext. 165. I care and need to hear from you all.
Respectfully,
Carrie Dallas, Life Program Project Coordinator — cdallas@nacainc.org
Category: Education, Educational Opportunities, Events, Programs