Eviction hearing coming up? Have questions about housing law? Come to DNA – People's Legal Services' Landlord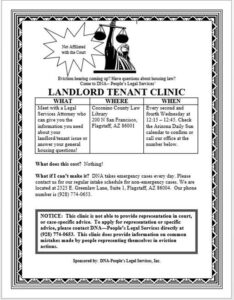 Tenant Clinic!
What: Meet with a Legal Services Attorney who can give you the information you need about your landlord/tenant issue or answer your general housing questions!
Where: Coconino County Law Library
200 N San Francisco
Flagstaff, AZ 86001
When: Every second and fourth Wednesday at 12:15 – 12:45. Check the Arizona Daily Sun calendar to confirm or call our office at (928) 774-0653.
What does it cost? Nothing!
What if I can't make it? DNA takes emergency cases every day. Please contact us for our regular intake schedule for non-emergency cases. We are located at 2323 E. Greenlaw Lane, Suite 1, Flagstaff, AZ 86004.
NOTICE: This clinic is not able to provide representation in court, or case-specific advice. To apply for representation or specific advice, please contact DNA – People's Legal Services directly at (928) 774-0653. This clinic does provide information on common mistakes made by people representing themselves in eviction actions.