Kevin Campbell and Family Finding Training coming to Coconino County! Let's change the outcomes for our youth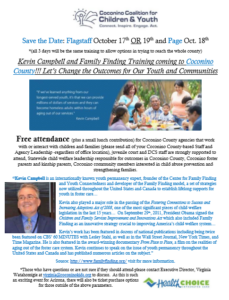 and communities!
Save the date: Flagstaff October 17th OR 19th, and Page October 18th
(All 3 days will be the same training to allow options in trying to reach the whole county)
Free attendance (plus a small lunch contribution) for Coconino County agencies that work with or interact with children and families (please send all of your Coconino County-based Staff and Agency Leadership -regardless of office location), juvenile court and DCS staff are strongly supported to attend, Statewide child welfare leadership responsible for outcomes in Coconino County, Coconino foster parents and kinship parents, Coconino community members interested in child abuse prevention and strengthening families.
"Kevin Campbell is an internationally known youth permanency expert, founder of the Center for Family Finding and Youth Connectedness and developer of the Family Finding model, a set of strategies now utilized throughout the United States and Canada to establish lifelong supports for youth in foster care.
Category: Educational Opportunities, Events, Programs