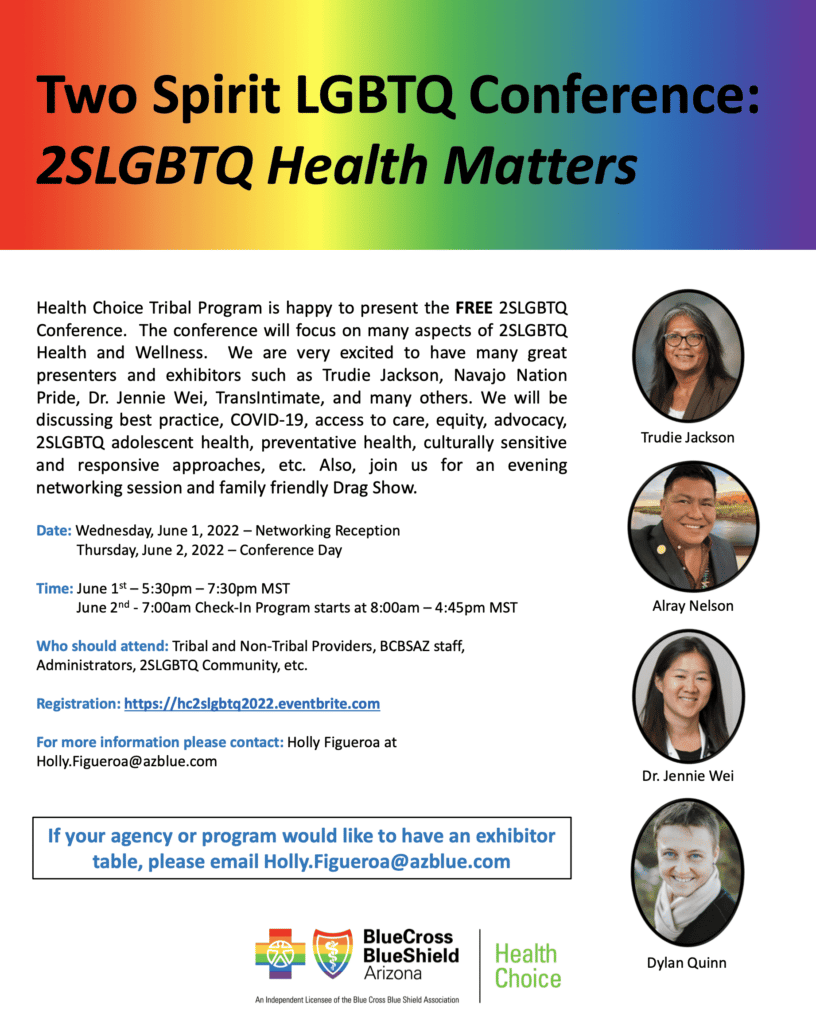 By Blue Cross Blue Shield – Medicaid (Health Choice Arizona)
The Health Choice Two Spirit LGBTQ Conference will happen Thursday, June 2nd at the Twin Arrows Resort Casino. The aim of this conference is to bring awareness and knowledge of the Two Spirit LGBTQ and to create space and opportunity to discuss best practices, COVID-19, access to care, equity, advocacy, 2SLGBTQ adolescent health, preventative health, culturally sensitive and responsive approaches, etc..
We are very excited to have many great presenters and exhibitors such as Trudie Jackson, Navajo Nation Pride, Dr. Jennie Wei, TransIntimate, and many others. We hope that there will be opportunity to build partnerships, identify collaborative opportunities, and hear about needs, gaps, and challenges. If you agency would like to have an exhibitor booth, email Holly Figueroa at Holly.Figueroa@azblue.com
It is our goal to include as many tribal providers, non-tribal providers, administrators, and community. We welcome the participation of subject matter experts such as Tribal and Non-Tribal Behavioral Health Directors, Tribal and Non-Tribal Social Service Directors, Tribal and Non-Tribal Preventative Health Directors, Tribal and Non-Tribal Courts, Law Enforcement, Peers Supports, CHRs, etc., and other support staff.
Again this is a FREE event and I encourage you to reserve your In-Person or Virtual seat by registering at https://hc2slgbtq2022.eventbrite.com. I have included a copy of the flyer. There is a block of rooms that can be reserved by calling 928-856-7541 to reserve a room please be sure to referenceBooking ID# 9071. Room rates are $138 plus NN Hotel Occupancy Tax (8%) and Navajo Sales Tax (6%) which would be a total of $157.32. Upon check in you will need to present a credit or debit card for incidentals. Check in time is 4:00pm and check out time is 11:00am. There will be luggage storage available if needed.
Cutoff date to reserve a room at the conference rate is Wednesday, May 25, 2022.
Category: Education, Educational Opportunities, Events, Health, Programs, Resources