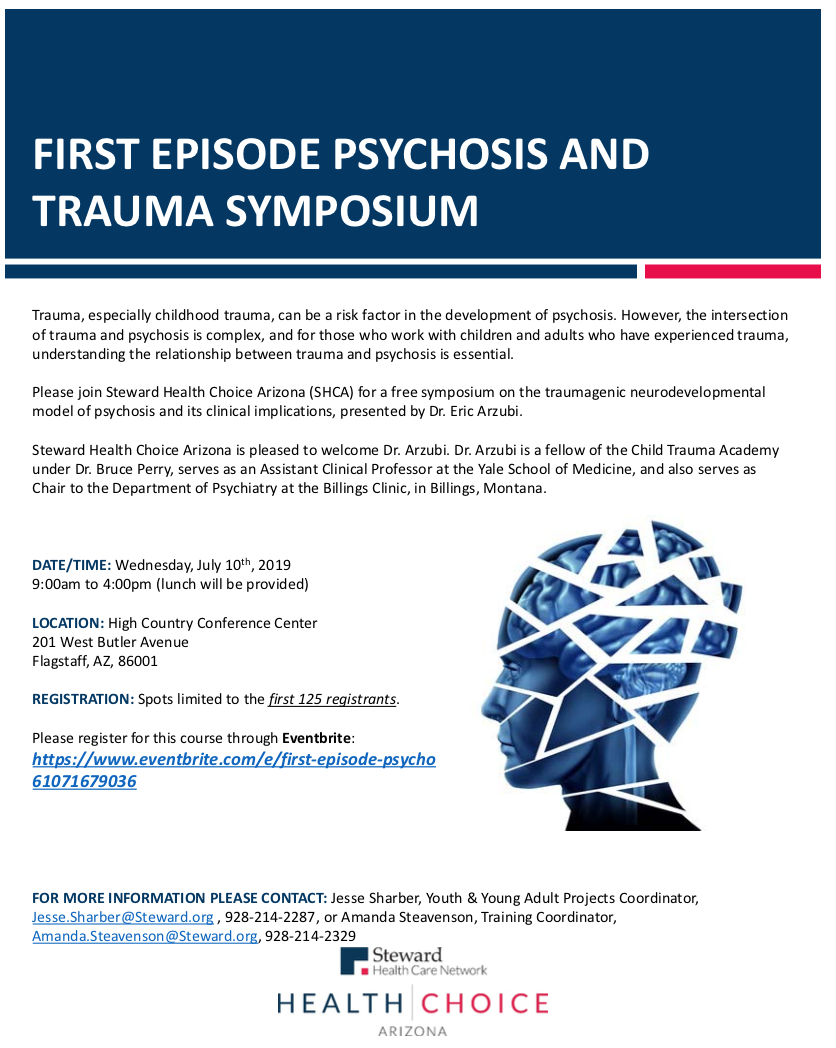 By Steward Health Choice Arizona (SHCA)
FLAGSTAFF — A "First Episode Psychosis and Trauma Symposium" will be held from 9 a.m. to 4 p.m. Wednesday, July 10 at the High Country Conference Center, 201 W. Butler Ave., Flagstaff.
Trauma, especially childhood trauma, can be a risk factor in the development of psychosis. However, the intersection of trauma and psychosis is complex, and for those who work with children and adults who have experienced trauma, understanding the relationship between trauma and psychosis is essential.
Please join Steward Health Choice Arizona (SHCA) for a free symposium on the traumagenic neurodevelopmental model of psychosis and its clinical implications, presented by Dr. Eric Arzubi.
Steward Health Choice Arizona is pleased to welcome Dr. Arzubi. Dr. Arzubi is a fellow of the Child Trauma Academy under Dr. Bruce Perry, serves as an Assistant Clinical Professor at the Yale School of Medicine, and also serves as Chair to the Department of Psychiatry at the Billings Clinic, in Billings, Montana.
FREE. Registration is limited to the first 125 registrants. Lunch will be provided.
Click here to register or for more information.
Category: Educational Opportunities