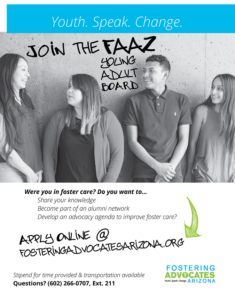 Fostering Advocates Arizona (FAAZ) is recruiting two new Young Adult Leadership Board Members! They are looking for passionate and skilled young people (ages 14 to 26) who have experienced foster care and want to advocate on behalf of their peers.
Who better to push for system improvements than the experts themselves.  FAAZ strives to have diverse representation on our Board and encourages young people of color to apply. If you are a young adult or know a young adult interested in this leadership role, apply today! 

As a Young Adult Leadership Board Member, young adults gain skills in strategic story sharing, youth outreach, legislative advocacy, and community mobilization. Current members report benefits of board involvement including meeting new people, growing professional contacts, travel opportunities, attending conferences and events all while building their resume and strengthening services and supports for youth in foster care.
At Fostering Advocates Arizona, youth speak change!