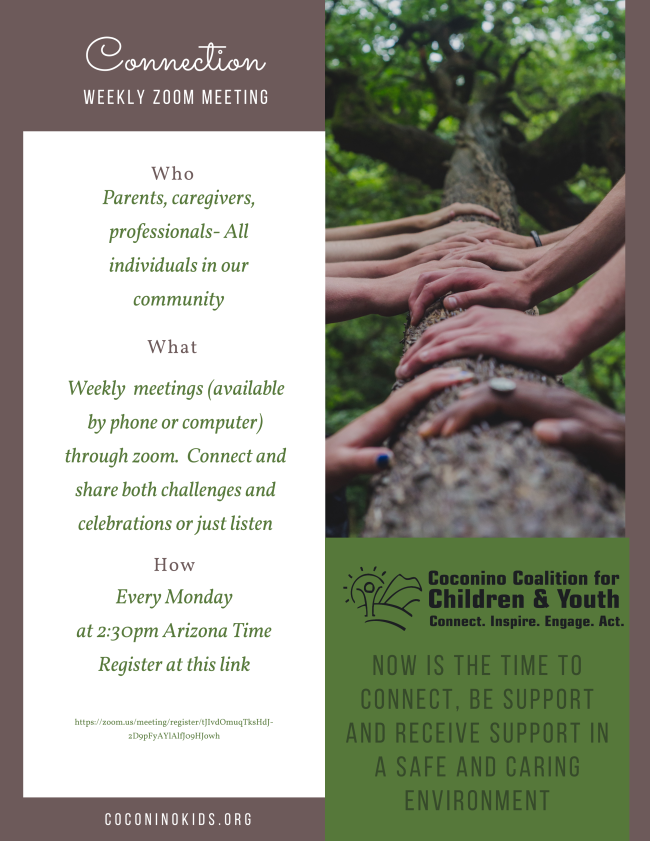 By the Coconino Coalition for Children & Youth
COCONINO COUNTY — The Coconino Coalition for Children & Youth is presenting a weekly Family Connection Zoom Meeting at 2:30 p.m. Mondays.
The meeting is open to parents, caregivers, professionals — All individuals in our community.
Now is the time to connect, be supportive and receive support in a safe and caring environment via zoom or by telephone.
This is an open time to connect with others, share joys, vent some concerns, ask for support, or offer others your support.
Despite current language in the media, physical distancing is required, but that does not me we need to socially distance. Now more than ever it's time to find new ways to connect with others. So, jump on with us… unshowered, with kids around, messy house, eating lunch at 3pm…we don't care. We're all in this together! CCC&Y is providing this opportunity to simply connect with you, and connect you with your community!
You can choose to attend one or more of the following sessions.
Category: Advocacy, Child Welfare, Education, Educational Opportunities, Events, General, Health, Programs, Resources