By the Coconino Coaltion for Children & Youth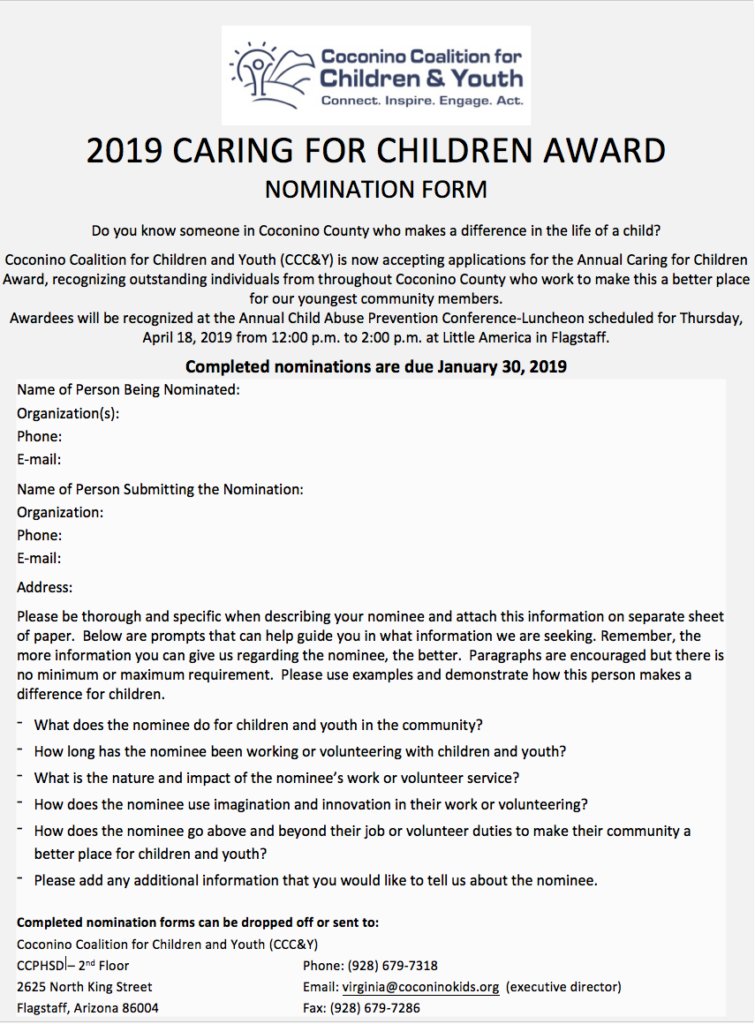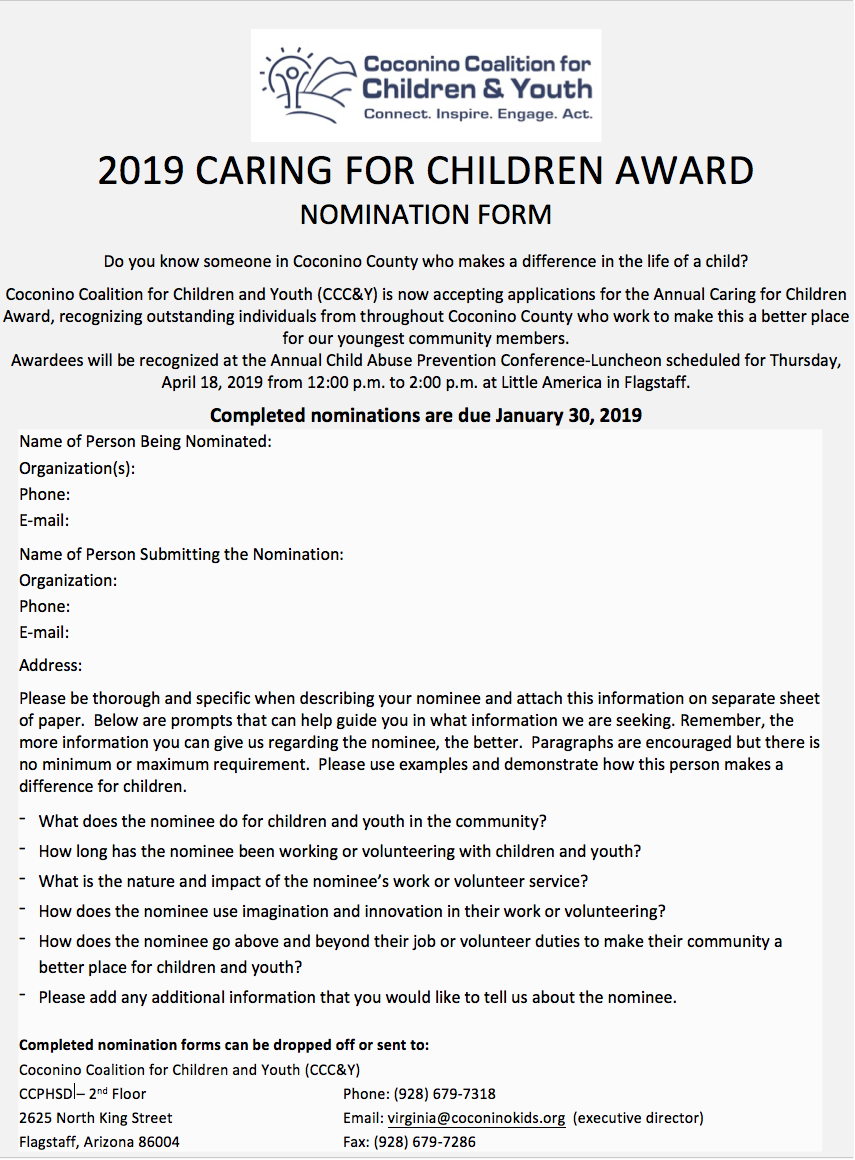 COCONINO COUNTY — Do you know someone in Coconino County who makes a difference in the lives of children?
Nominations are now open for the 2019 Caring for Children Awards, recognizing outstanding individuals from throughout Coconino County who work to make this a better place for our youngest community members.
Completed nominations are due by Jan. 30, 2019.
Past winners have included individuals from Fredonia, Leupp, Williams and Flagstaff.
Awardees will be recognized at the 2019 CCC&Y Child Abuse Prevention Conference-Luncheon scheduled from noon to 2 p.m. Thursday, April 18 at Little America in Flagstaff.
This is a tremendous honor and will be a great experience for all winners, but they can't win if you do not nominate.
Please visit https://news.coconinokids.org/wp-content/uploads/2018/12/2019-Caring-for-Children-Award-Nomination-Form.pdf to download a nomination form. Completed nomination forms can be emailed to virginia@coconinokids.org, sent via FAX at 928-679-7286, mailed or dropped off at the Coconino Coalition for Children & Youth, 2625 N. King St., CCPHSD 2ndFloor, Flagstaff, AZ.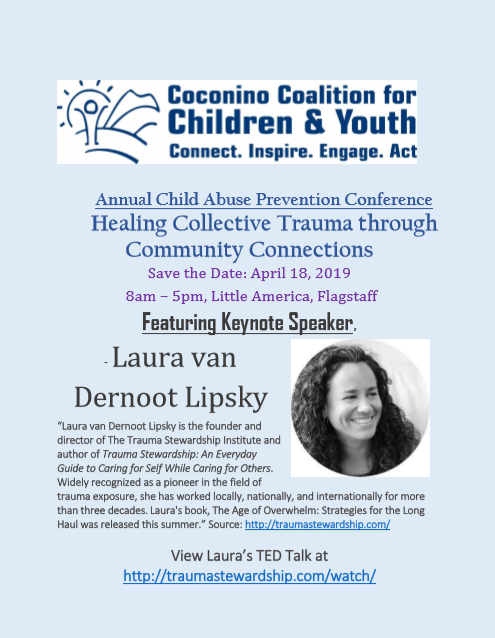 About the 2019 Child Abuse Prevention Conference: Laura van Dernoot Lipsky, founder and director of The Trauma Stewardship Institute and author of "Trauma Stewardship: An Everyday Guide to Caring for Self While Caring for Others," will be the opening keynote speaker at the 2019 Child Abuse Prevention Conference,  "Healing Collective Trauma through Community Connections," from 8 a.m. to 5 p.m. Thursday, April 18, at Little America, 2515 E. Butler Ave., Flagstaff. The conference features lunch keynote speaker Dr. Pearl Yellowman, multiple continuing education units (CEU) breakout sessions and City and County Leadership to recognizeApril as Child Abuse Prevention Month. Friend Level + sponsors to date include: The NARBHA Institute, APS, and The Molly and Joseph Herman Foundation. Proceeds from this year's Child Abuse Prevention Conference will support CCC&Y's prevention, community education and child advocacy efforts throughout the year. Details to come on registration, need-based scholarships and individual breakout sessions at https://coconinokids.org.
About the Coconino Coalition for Children & Youth: CCC&Y works to ensure all children and youth in Coconino County have the resources and support they need to reach their full potential. For more than 40 years, CCC&Y has acted as a countywide communication link, bridging and supporting services for children and youth. Through advocacy, prevention, education and community partnership-building, CCC&Y has built a strong, extensive network of families, providers, leaders and communities all striving to improve the lives of young people.
Category: Advocacy, Child Welfare, Education, Programs