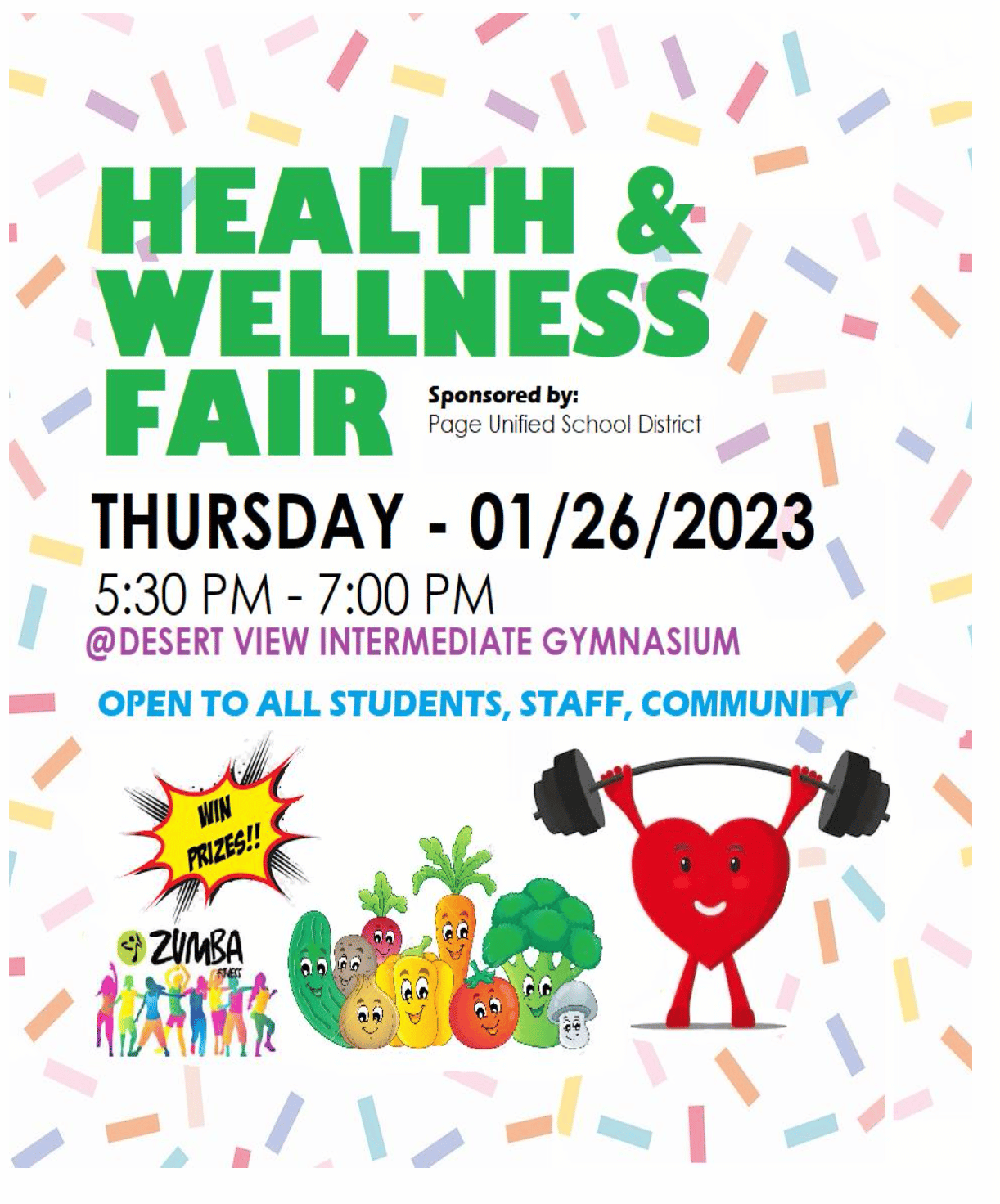 PAGE — The Page Unified School District will present a Health & Wellness Fair from 5:30 to 7 p.m. Thursday, Jan. 26 at Desert View Intermediate Gymnasium next to the Preschool Building at 550 S. Navajo Drive, Page.
Our goal is to reach as many students from Pre-k to 12 grade and all families of our community.
Open to all students, staff and community.
Community organizations are invited to staff information tables.
We would like to invite you to join us at this exciting event. We know we have a plethora of expertise in health topics in Page and the surrounding areas. We would love for you to come share your knowledge, experience, and/or services with our audience. Please let us know if you or anyone from your office or organization would be available to attend.
Set up time will start at 5:00 PM and the event will be open to the public at 5:30 PM. A map has been provided with this letter for your reference. We will provide 1 table and 2 chairs for you to display pamphlets, flyers, posters, etc. You are more than welcome to give away items such as pens, buttons, stickers, etc. We are also asking for a prize donation that could be given away that you could distribute for the attending community members/students and this request is optional. If you are able to do a prize, please let us know and we would greatly appreciate it.
If you cannot attend but would like to give us items to hand out at the fair on your behalf, we can surely do so. We hope you will consider our invitation. Please let me know no later than January 24th – Tuesday, so we can plan accordingly.
Contact:
Alissa Jones
Physical Therapist
Northland-Rural Therapy Associates
(928) 779-1679
Click here for the invitation
Category: Education, Educational Opportunities, Events, Health, Programs, Resources