Arizona's Children Association, AzCA, is pleased to announce "Jacob's Law 101" training, presented by Anika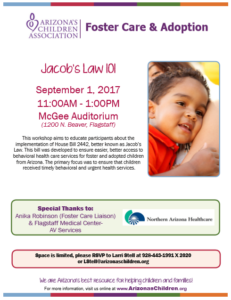 Robinson (Foster Care Liaison) on September 1, 2017, from 11am – 1pm. Please see the flyer by clicking on the picture or following the link here.
This workshop aims to educate participants about the implementation of House Bill 2442, better known as Jacob's Law. This bill was developed to ensure easier, better access to behavioral health care services for foster and adopted children from Arizona. The primary focus was to ensure that children received timely behavioral and urgent health services.
This training is for Kinship and Licensed Foster Families, CASA, Attorneys, Behavioral Health professionals, Licensing Agencies and staff. Open to any professional working with children in the custody of Arizona DCS.
Jacob's Law 101 will also be presented in:
Yavapai County on August 11th
and in Navajo/Apache Counties on August 18th
Space is limited, please RSVP to Larri Stell at (928) 443-1991 x 2020 or LStell@arizonaschildren.org
Category: Child Welfare, Educational Opportunities, Events, Programs