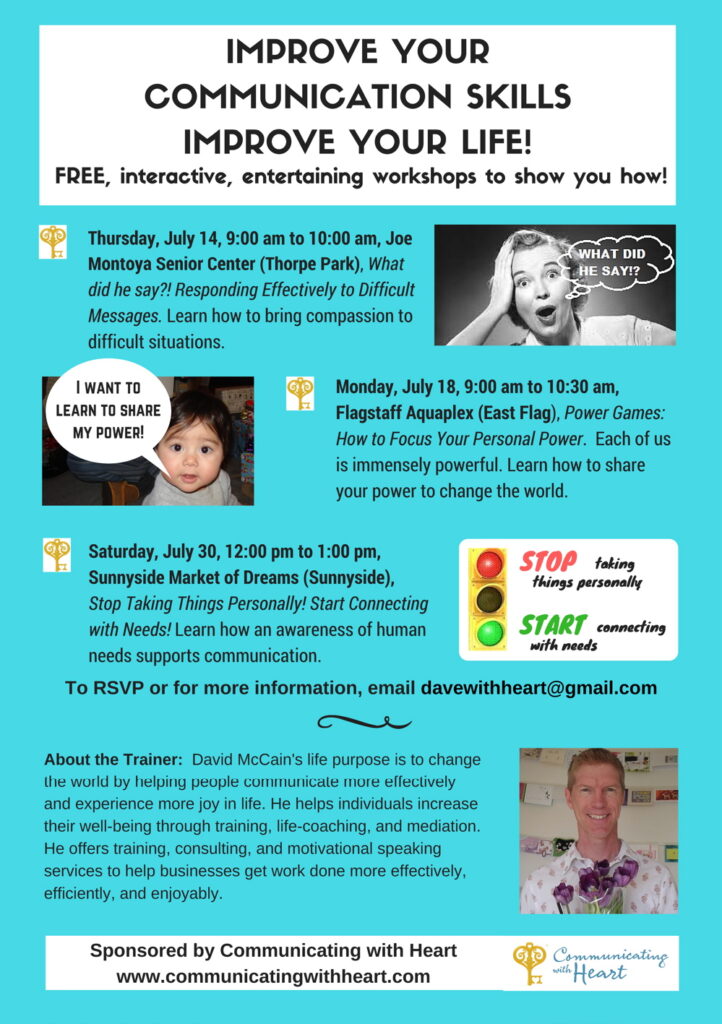 A series of "Improve Your Communication Skills Improve Your Life!" workshops to be held July 14, 18 and 30.
The workshops are open to those 16 years of age and older.
Thursday, July 14, 9:00 am to 10:00 am, Joe Montoya Senior Center (Thorpe Park), What did he say?! Responding Effectively to Difficult Messages. Learn how to bring compassion to difficult situations.
Monday, July 18, 9:00 am to 10:30 am, Flagstaff Aquaplex (East Flag), Power Games: How to Focus Your Personal Power. Each of us is immensely powerful. Learn how to share your power to change the world.
Saturday, July 30, 12:00 pm to 1:00 pm, Sunnyside Market of Dreams (Sunnyside), Stop Taking Things Personally! Start Connecting with Needs! Learn how an awareness of human needs supports communication.
About the Trainer: David McCain's life purpose is to change the world by helping people communicate more effectively and experience more joy in life. He helps individuals increase their wellbeing through training, life coaching, and mediation. He offers training, consulting, and motivational speaking services to help businesses get work done more effectively, efficiently, and enjoyably.
To RSVP or for more information, email davewithheart@gmail.com
Category: Education