Working with Victims of Sex Trafficking: A training for CASA volunteers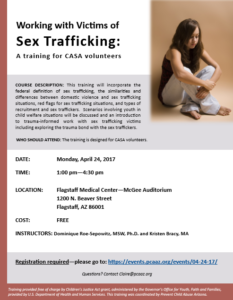 Course Description: This training will incorporate the federal definition of sex trafficking, the similarities and differences between domestic violence and sex trafficking situations, red flags for sex trafficking situations, and types of recruitment and sex traffickers.  Scenarios involving youth in child welfare situations will be discussed and an introduction to trauma-informed work with sex trafficking victims including exploring the trauma bond with the sex traffickers.
The training is designed for CASA volunteers.
DATE:  Monday, April 24, 2017
TIME:  1:00 pm—4:30 pm
LOCATION: Flagstaff Medical Center—McGee Auditorium
1200 N. Beaver Street
Flagstaff, AZ 86001
COST:  FREE
INSTRUCTORS: Dominique Roe-Sepowitz, MSW, Ph.D. and Kristen Bracy, MA
Registration required—please go to: https://events.pcaaz.org/events/04-24-17/
Questions? Contact Claire@pcaaz.org
Category: Advocacy, Educational Opportunities, Events, Programs