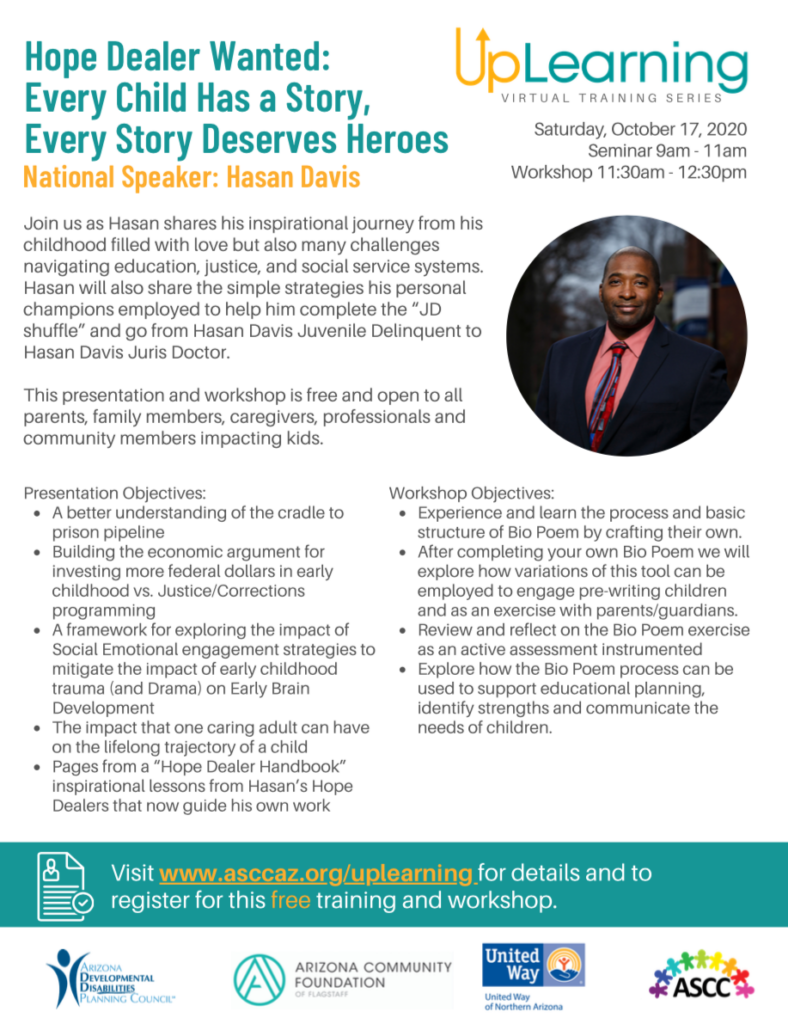 By the Association for Supportive Child Care
In light of the COVID-19 pandemic, ASCC has decided to replace our in-person conferences, the 2020 Northern Arizona Symposium and 2021 Celebrate the Young Child Conference, with a free virtual learning series, UpLearning.
UpLearning will bring the best of our conferences to you throughout the coming months and allows you to have a voice in determining the topics most relevant in these rapidly changing times. The series will include six presentations by national and local experts presenting important topics like inclusion, behavior management, STEAM, language and literacy, and more in a convenient, online setting that works with your schedule. The series offers 12 professional training hours.
National speaker Hasan Davis will be the guest speaker on Saturday, Oct. 17. The seminar will be held from 9 to 11 a.m., with the workshop from 11:30 a.m. to 12:30 p.m.
Join us as Hasan Davis shares his inspirational journey from his childhood filled with love but also many challenges as es navigating education, justice, and social service systems. Systems that, more often than not, failed to provide he and his family the support they needed to be successful. Hasan was lucky to find that on his journey there were, within each system, outliers and resisters who found a way to engage, encourage and, empower him with skills, grit, and resilience. With their support, he transcended his mounting list of "failures" to become an advocate for himself and eventually a champion for others facing challenges. Hasan believes that each person in the community has the opportunity, and the responsibility, to influence and transform the way children and youth experience success. Hasan will share the simple strategies his personal champions employed to help him complete the "JD shuffle" and go from Hasan Davis Juvenile Delinquent to Hasan Davis Juris Doctor.
Click here for more information.