Coconino County Community Services is having their 2nd Annual Holiday Budgeting Workshop on Tuesday,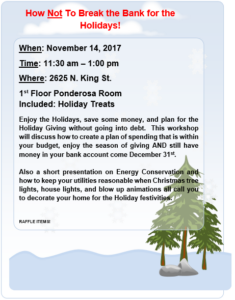 November 14th from 11:30 a.m. – 1:00 p.m.
Enjoy the Holidays, save some money, and plan for the Holiday Giving without going into debt. This workshop will discuss how to create a plan of spending that is within your budget, enjoy the season of giving AND still have money in your bank account come December 31st.
Also a short presentation on Energy Conservation and how to keep your utilities reasonable when Christmas tree lights, house lights, and blow up animations all call you to decorate your home for the Holiday festivities.
When: November 14, 2017
11:30am – 1:00pm
Where: 2625 N King St
1st floor Ponderosa Room
Category: Educational Opportunities, Events, Resources