Put life back in your life.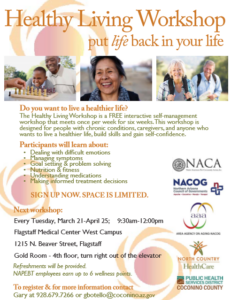 Do you want to live a healthier life?
The Healthy Living Workshop is a FREE interactive self-management workshop that meets once per week for six weeks. This workshop is designed for people with chronic conditions, caregivers, and anyone who wants to live a healthier life, build skills and gain self-confidence
If you know someone who has a chronic condition, or cares for someone with a chronic condition, please inform them about this FREE class.
Participants will learn about:
dealing with difficult emotions
managing symptoms
goal setting and problem solving
nutrition and fitness
understanding medications
making informed treatment decisions
SIGN UP NOW. SPACE IS LIMITED.
Next workshop:
Every Tuesday, March 21 – April 25; 9:30am – 12 pm
Flagstaff Medical Center West Campus
1215 N. Beaver Street
Flagstaff
Gold Room – 4th floor, turn right out of the elevator
Refreshments will be provided.
NAPEBT employees earn up to 6 wellness points.
To register & for more information contact: Gary at (928) 679-7266 or gbotello@coconino.az.gov