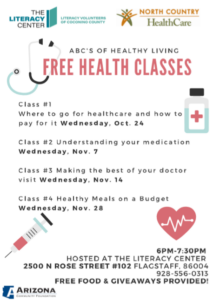 ABC's of Healthy Living: Free Health Classes
In honor of Health Literacy Month, The Literacy Center and North Country Healthcare are kicking off the series of health literacy workshops. All participants a given a free $5 Safeway gift card for attending!
Class #2 – Understanding your Medication
Wednesday Nov, 7
Class #3 – Making the best of your doctor visit
Wednesday Nov 14
Class #4 – Health Meals on a Budget
Wednesday Nov 28
When: 6pm – 7:30pm
Where: The Literacy Center
2500 N Rose St #102
Flagstaff, AZ 86004
Free food and giveaways provided!