Presented by Flagstaff Downtown Business Alliance and Flagstaff Parks and Recreation at Heritage Square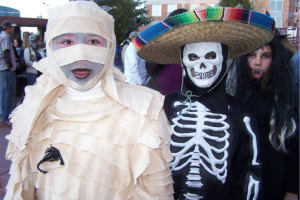 October 31st in Downtown Flagstaff! Mark your calendars now for Halloween Harvest, the Trick-or-Treat Trail, AND the second Locals' Night of the month!
Halloween Harvest will include a BOOgie dance party, a freaky fashion show, a haunted house, chilling arts & crafts, creepy carnival games, and fun for everyone! Then visit over 20 businesses throughout downtown during the Trick-or-Treat Trail!
The second Locals' Night of the month will also take place this evening with over 20 businesses offering spooky good deals to our awesome Flagstaff residents!
So whether your looking to bring the kids downtown for some trick-or-treating, or just looking for another reason to spend time downtown, there is something for everyone on October 31st in downtown!
When: Tuesday, Oct 31, 2017
04:00 pm – 07:00 pm
Category: Events