Are you a STEM Teacher interested in having a graduate student help in your classroom? Check out this opportunity!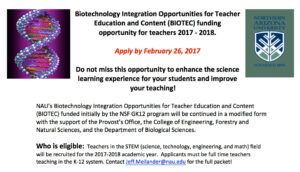 More information here.
Biotechnology Integration Opportunities for Teacher Education and Content (BIOTEC) funding opportunity for teachers 2017-2018.
Apply by February 26, 2017.
Do not miss this opportunity to enhance the science learning experience for your students and improve your teaching!
NAU's BIOTEC funded initially by the NSK GK12 program will be continued in a modified form with the support of the Provost's Office, the College of Engineering, Forestry and Natural Sciences, and the Department of Biological Sciences.
Who is eligible: Teachers in the STEM (science, technology, engineering, and math) field will be recruited for the 2017-2018 academic year. Applicants must be full time teachers teaching in the k-12 system. Contact Jeff.Meilander@nau.edu for the full packet!