Presented by Girls on the Run of Northern Arizona at Coconino High School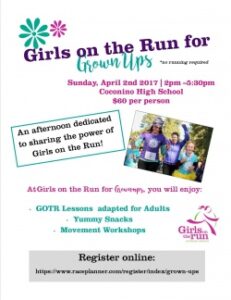 April 2, 2017
Come find your inner Starpower, play Girls on the Run games and learn from our coaches. Wear comfortable clothes to be active. Running is optional.   The event is a fundraiser to learn more about our inspiring program and includes: GOTR lessons adapted for adults, Yummy snacks, Pilates , Injury Prevention, and more!
Details on our website at www.gotrna.org!
Admission Info:
Admission prices are $60 per person.
Individual Dates & Times: *
Apr 2, 2017: 2 pm – 7:30 pm (Sun)
Coconino High School
2801 North Izabel Street
Flagstaff, AZ 86004