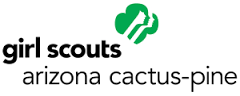 By Girl Scouts of Arizona Cactus-Pine
Girl Scouts of Arizona Cactus-Pine is seeking a GSYES Program Support Specialist.
In this role you will help recruit and support site contacts and volunteer interest. You will also be responsible for facilitating successful delivery of Girl Scout program activities to variety of girls and age levels at various sites. Successful delivery ensures Girl Scout program health and safety standards are met.
Works directly with program participants (girls and families), ensuring their active involvement in program planning and partition. Actively promotes and supports Girl Scouts-Arizona Cactus-Pine's mission and goals through the Girl Scout Leadership Experience.
Click here for the entire job description.
Click here to apply online.