Sign up to go this summer!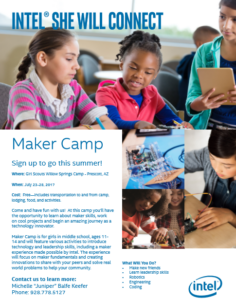 Where: Girls Scouts Willow Springs Camp – Presctorr, AZ
When: July 23-28, 2017
Cost: FREE – includes transportation to and from camp, lodging, food, and activities
What will you do:
Make new friends
Learn leadership skills
Robotics
Engineering
Coding
Come and have fun with us! At this camp, you'll have the opportunity to learn about maker skills, work on cool projects and begin an amazing journey as a technology innovator.
Maker Camp is for girls in middle school, ages 11-14 and will feature various activities to introduce technology and leadership skills, including a maker experience made possible by Intel. The experience will focus on maker fundamentals and creating innovations to share with your peers and solve real world problems to help your community.
Contact us to learn more:
Michelle "Juniper" Balfe Keefer
(928) 778-5127
Follow the link here or click the picture for the registration form, or follow the link here for the online registration form!