Girls Wanted! Ever wanted to try out mountain biking? Snowsports? Gear Girls uses mountain biking, trail work and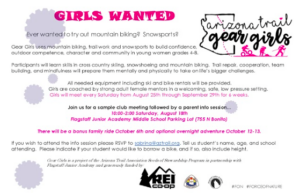 snowsports to build confidence, outdoor competence, character and community in young women grades 4-8.
Participants will learn skills in cross country skiing, snowshowing and mountain biking. Trail repair, cooperation, team building, and mindfulness will prepare them mentally and physically to take on life's bigger challenges.
All needed equipment including ski and bike rentals will be provided. Girls are coached by strong adult female mentors in a welcoming, safe, low pressure setting. Girls will meet every Saturday from August 25 through September 29th for 6 weeks.
There will be a bonus family ride October 6th and optional overnight adventure October 12-13.
This program is FREE of charge for girls grades 4-8!