Ever wondered what it's like to be the CEO of a major company? Join prominent Northern Arizona CEOs for Girl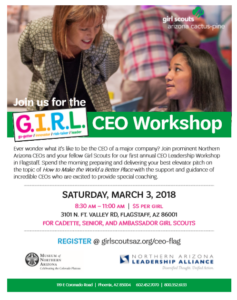 Scouts' first annual CEO Leadership Workshop in Flagstaff. Spend the morning preparing and delivering your best elevator pitch on the topic How to Make the World a Better Place with the support and guidance of incredible CEOs who are excited to provide special coaching.
Any girls in grades 6th-12th are welcome to attend – you don't have to be a Girl Scout! This is a wonderful leadership opportunity for girls! What is a girl? A girl is a go-getter, innovator, risk-taker, and leader – learn to embrace and grow these qualities to become a great leader!
When: Saturday, March 3, 2018
8:30am – 11am
Where: Museum of Northern Arizona
3101 N Ft Valley Rd
Flagstaff, AZ 86001
Register at girlscoutaz.org/ceo-flag. $5 per girl.