By CCC&Y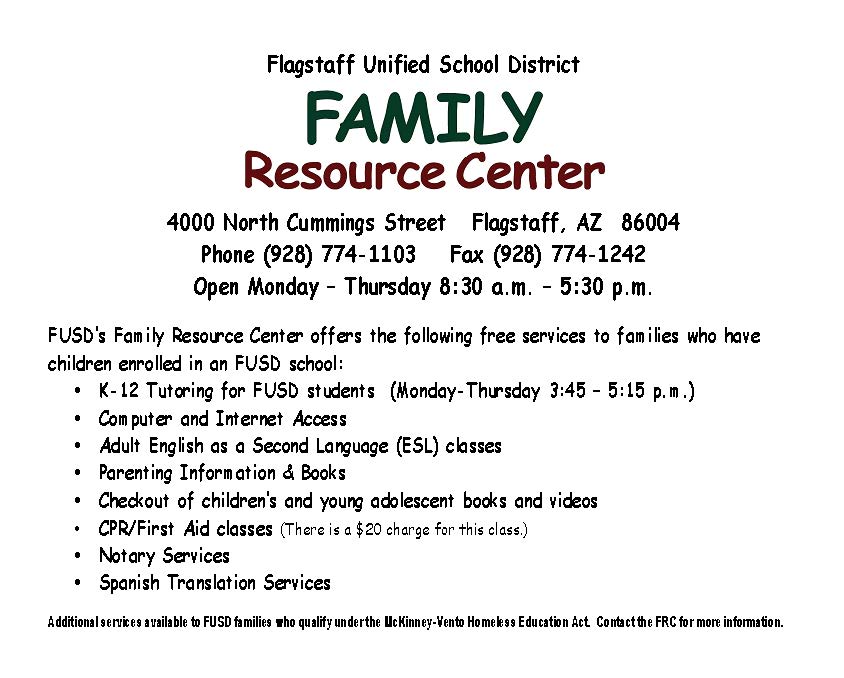 The FUSD's Family Resource Center offers free services to families who have children enrolled in an FUSD school.
The center, at 4000 N. Cummins St., provides:
K-12 Tutoring for FUSD students       (Monday-Thursday 3:45 – 5:15 p.m.)
Computer and Internet Access
Adult English as a Second Language (ESL) classes
Parenting Information & Books
Checkout of children's and young adolescent books and videos
CPR/First Aid classes (There is a $20 charge for this class.)
Notary Services
Spanish Translation Services
Additional services available to FUSD families who qualify under the McKinney-Vento Homeless Education Act. Contact the FRC or click here for more information.
The Family Resource Center is open from 8:30 a.m.to 5:30 p.m. Monday through Thursday. Call 928-774-1103 for more information.
Category: Education