[slideshow_deploy id='15083']
By the Coconino Coalition for Children & Youth
Dozens of children and their parents enjoyed a hotdog cook-off while picking up backpacks and school supplies at the annual Fredonia Back-to-School Night held on a pleasant evening on Tuesday, Aug. 15 in Fredonia.
Parents also had the opportunity receive information during the elementary, middle school and high school back-to-school information sessions held in the gymnasium.
Backpacks were supplied by the Coconino County Public Health Services District in Page, with additional school supplies provided by the Coconino Coalition for Children & Youth.
School Open House and Back-to-School Fairs will continue this month with parents and students attending a variety of events in the coming weeks in Flagstaff.
Flagstaff Unified School District Open Houses (Aug. 9 through 31)
FUSD will hold its annual series of school open house nights through the end of August.
The schedule includes:
5:30 p.m. Thursday, Aug. 17, Cromer Elementary and Killip Intermediate schools; 5 p.m. Wednesday, Aug. 23 at Puente de Hózhó Elementary and 6 p.m. Wednesday, Aug. 23 at Thomas Elementary; Thursday, Aug. 24 — 5:30 p.m. at DeMiguel and Kinsey elementary schools; 5 p.m. at Marshall Elementary, 6 p.m. at Sechrist Elementary and 6 p.m. at Summit High School; 5 p.m. Monday, Aug. 28 at Flagstaff High School; 5:30 p.m. Tuesday, Aug. 29 at Mount Eldon Middle School; 6 p.m. Wednesday, Aug. 30 at Sinagua Middle School and 5:30 p.m. Thursday, Aug. 31 at Coconino High School. Visit https://www.fusd1.org or FUSD Facebook for more information.
FUSD Indian Education 2017-18 Back-to-School Night (Aug. 30)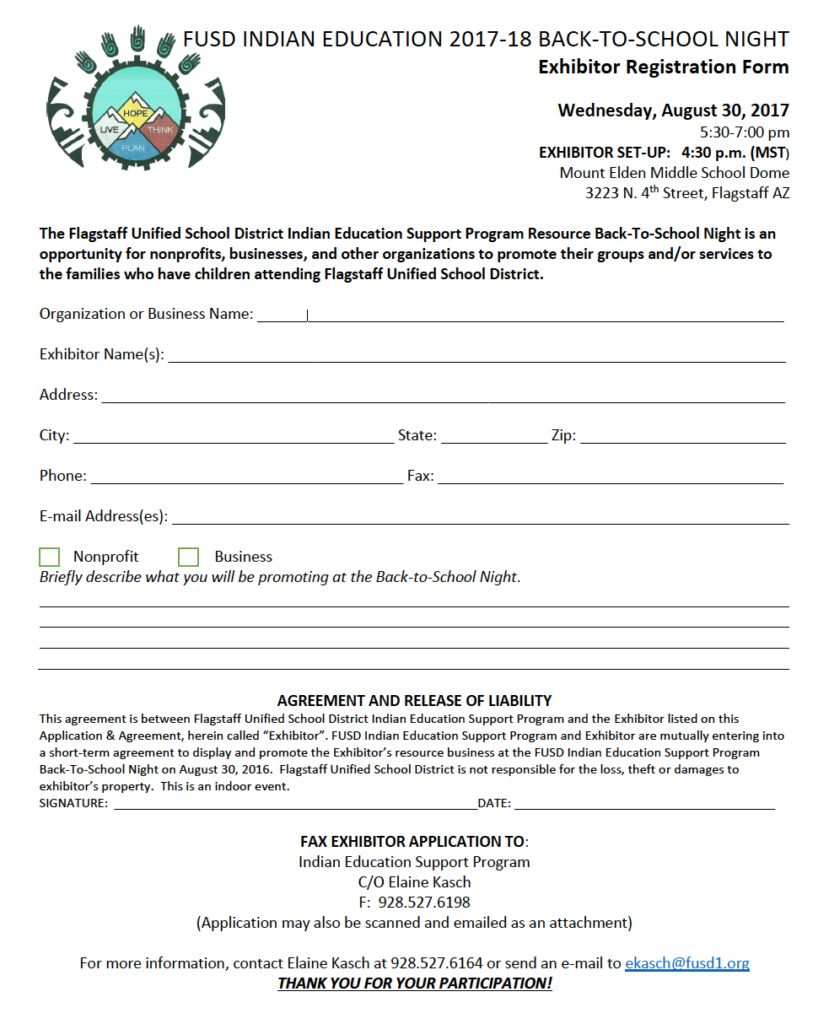 Exhibitors are being sought for the FUSD Indian Education Support Program annual Back to School Night to be held from 5:30 to 7 p.m. Wednesday, Aug. 30 at Mount Elden Middle School, 3223 N 4th St.
"We are requesting for community organizations to come and share information and resources available to families. This event will also allow organizations to promote their agency and services. Attached is a copy of the vendor/exhibitor form," said Andrew Qumyintewa.
Exhibitors can fill out the PDF, or scan the application and email it as an attachment or fax it to:
Elaine Kasch at ekasch@fusd1.org, fax: 928-527-6198
Category: General