By CCC&Y
The FUSD Indian Education Support Program will present the "Back 2 School Night" from 5:30 to 7 p.m. Monday, Aug. 24 at MEMS Dome, located on 4th Street next to Puente De Hozho School, Flagstaff.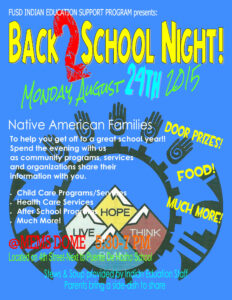 "Native American families — To help you get off to a great school year, spend the evening with us as community programs, services and organizations share their information with you," organizers reported.
The event includes information on child care programs / services, health care services, after school programs and door prizes, with stews and soup provided by the Indian Education staff. Parents are invited to bring a side dish to share.
Click here for more information