Presented by Momentum Aerial at Coconino Center for the Arts, Flagstaff AZ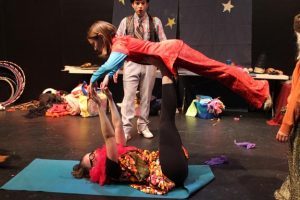 Children and youth will have the chance to learn stilt walking, acro balancing, aerial dance, and much more at this circus camp!
FunTown Summer Circus Camp for Kids is a fun, funky, creative and energetic summer program in Flagstaff! Children and youth (ages 7-17) of all types and ability levels will be encouraged to achieve their highest potential through learning circus skills such as stilt walking, acro balance, tumbling, clowning, aerial dance and trapeze, juggling and more. This camp will teach kids and youth about empowering themselves and others, help develop character, and teach creative thinking.
FunTown Circus Camp is much more than just a circus camp. It is a place where kids and youth will learn about empowerment of self and others, character development through our inclusive structure, and how to think creatively. FunTown is presented in partnership with Momentum Aerial. FunTown's team of instructors is led by Joanie Garcia, Co-Owner of Momentum Aerial.
Funtown Circus Camp will have a weekly performance for friends and family at the Coconino Center for the Arts each Friday during the Camp at 12pm.
Participants will be required to fill out a liability waiver before participating in Camp.
ADMISSION INFO
PRICE:
$400 2-weeks
$250 1-week
$65 day drop in
*Members of the Flagstaff Arts Council receive 10% off registration! Call to redeem:(928) 779-2300.
INDIVIDUAL DATES & TIMES *
Jul 16, 2018 at 09:00 am – 01:00 pm (Mon)
Jul 17, 2018 at 09:00 am – 01:00 pm (Tue)
Jul 18, 2018 at 09:00 am – 01:00 pm (Wed)
Jul 19, 2018 at 09:00 am – 01:00 pm (Thu)
Jul 20, 2018 at 09:00 am – 01:00 pm (Fri)
Jul 23, 2018 at 09:00 am – 01:00 pm (Mon)
Jul 24, 2018 at 09:00 am – 01:00 pm (Tue)
Jul 25, 2018 at 09:00 am – 01:00 pm (Wed)
Jul 26, 2018 at 09:00 am – 01:00 pm (Thu)
Jul 27, 2018 at 09:00 am – 01:00 pm (Fri)
Where: Coconino Center for the Arts
2300 North Fort Valley Road
Flagstaff, AZ 86002