Click to view this email in a browser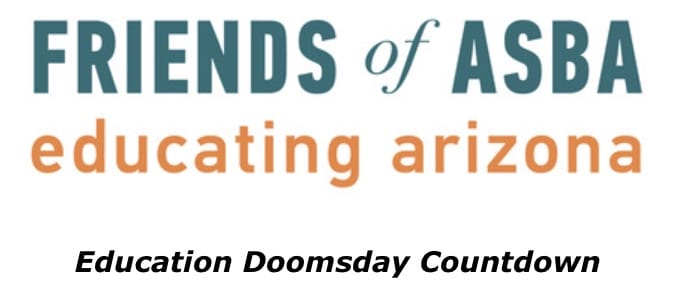 Dear Friends,
Today marks a significant step closer to education doomsday. There are less than 150 days left for the legislature to intervene and override the Aggregate Expenditure Limit (AEL). If the legislature fails to act by March 1, 2023, then district schools across Arizona will be forced to cut $1.3B statewide from their budget.
When the Legislature passed this year's budget, it was a known fact that the money appropriated to K-12 education would exceed the Aggregate Expenditure Limit contained in the Arizona Constitution.
Help us make sure this issue remains top of mind and reshare our daily doomsday countdown clock posts on Facebook and Twitter or share your own post using the links below to tell us what education doomsday means to your school community:
Join us in calling on Governor Ducey to convene a special session of the Legislature for the purpose of authorizing the expenditure of the funds the Legislature appropriated in this year's budget as soon as possible. Call (602) 542-4331 or email the governor's office and tell him that he needs to secure the funding that was in the budget he signed.
We urge member districts to consider adopting Arizona School Board's Association's model resolution at their next governing board meeting. Click here to see what school districts have adopted the resolution.
Visit educationdoomsday.com for helpful tools and the latest updates regarding the AEL.
Friends of ASBA is a 501(c)(4) non-profit organization. No school district resources were used in the creation of this message.
Use this link to change your email to a different email address for future communications.
Category: Advocacy, Education, Educational Opportunities, General, Programs, Resources